Introduction
The IEM Computermusic Ensemble (ICE) is a group of electronic musician, spe-cialized playing with computermusic instruments, such as interactive, augmentedhyper-instruments or simulations of real instruments. The target is contemporarymusic adapted or written for computermusic ensembles but also interpretation ofhistorical ensemble music with virtual instruments. They play with a spatial au-dio system, especially Ambisonics or wave-field systems, where they are renderedwithin small or large concert halls and also open environments.
Why is ICE needed and what is the difference to other CM-Ensembles.
The IEM Computermusic Ensemble (ICE) is a group of electronic musician, specialized playing with computermusic instruments, such as interactive, augmented hyper-instruments or simulations of real instruments. The target is contemporary music special written for computermusic ensembles or interpretation of historic electronic music.
Since other partner institutes do have already ensembles within the area of computermusic and the IEM is associated with computermusic musicians, but until now has no ensemble. As references the list below is use to analyze their features and afterwards the unique feature of ICE is shown:
Existing computermusic ensembles
This seems to be a conventional ensemble, which uses new music technologies, but does not focus on a special equippment or structure and adapts to pieces like shown in their blog on the website UABCME.
The use of individual special loudspeaker for localization and distribution of sound, lets them work with especially simulations and behave like traditional musicians with their instruments. Because of their speaker located near the musician, they are receipted by the audience like an ensemble with traditional instruments.
(The question is how much influence has the distribution of the speaker for the location or only for the sound with different reflections values, but this is another discussion. )
The orchestra with about 15 musicians, use PureData [PD] on Laptops and are connected via ethernet network. Networking seemed to be an important issue, so each musician and could have influence of the date from the other musicians [ICO01]. They also focused on the usage of various sensors.
They seem to be based on an specific device as an instrument, the mobile phone. Like the gameboys ocrchetras eg. in Vienna or Poland from the 90s, this also seems to play with the smallness of the device and therefore is not beeing seen as general contemporary music performances on stages are aimed.
The ICE Vision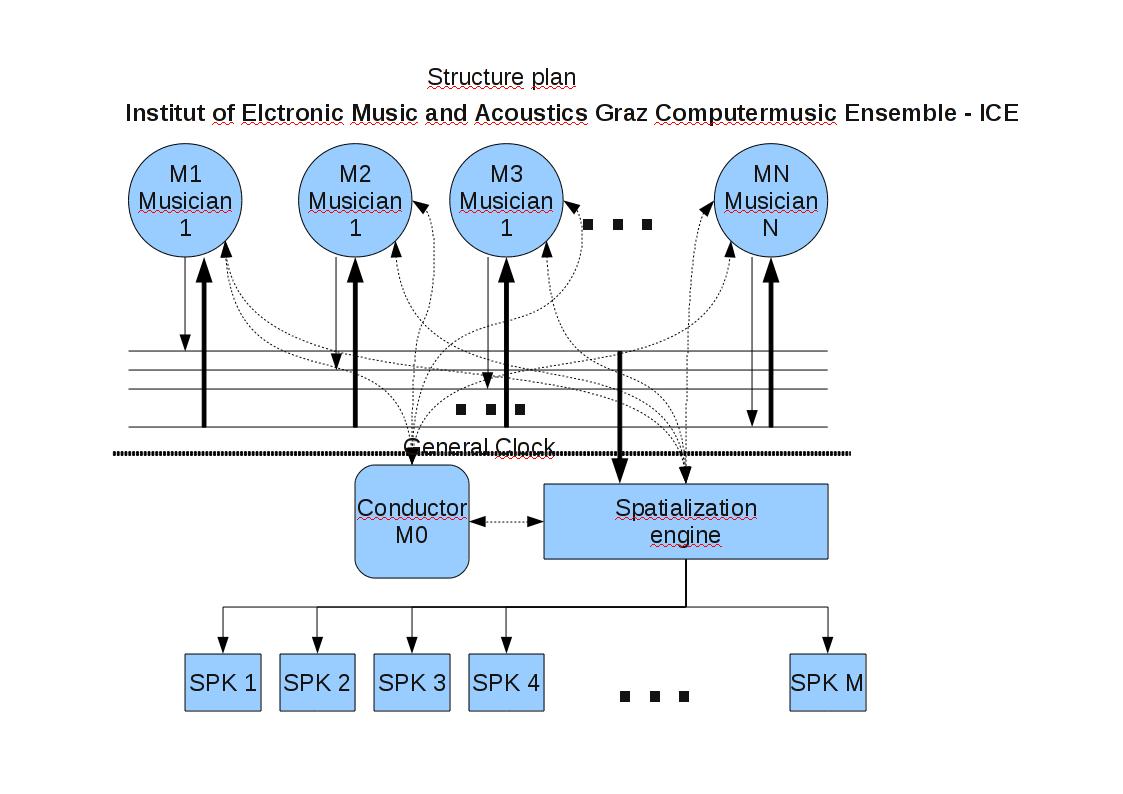 The IEM Computermusic Ensemble ICE, has the aim to be an ensemble with computer musicians and an real or virtual conductor, playing their computer over different interfaces and network in an electro-acoustic concert hall. Therefore they play with a speaker system, which is an abstract rendering engine in 3D-Sound. This could be an Ambisonics speaker systems with is adapted for the actual performance room or any other 2D or 3D rendering engine. Each musician use the whole speaker system individual as musician. They are not depended on unified hardware, but on unified transmission protocols in audio and control data over a high speed network. They can speak with each other over data network. Also the focus is a fast setup, doing all the audio and control data transmission over defined protocols and streaming formats, to feed the abstract spatialization engine, being controlled by the conductor or with an override possibility for a virtual conductor. ICE is planed as an ensemble for 8-21 musician, since an orchestra would be to big, but each musician can play many instruments or an instrument group and can simulate an orchestra.
References
| | |
| --- | --- |
| [UAB01] | Introduction from their homepage UABCME (accessed on 2.5.2011) |
| | |
| --- | --- |
| [SLORK1] | Excerp from Bio at homepage _SLORK (accessed on 2.5.2011) |
| | |
| --- | --- |
| [MOPHO1] | Introduction from their homepage sse above (accessed on 2.5.2011) |
| | |
| --- | --- |
| [ICO1] | See Excerpt from Ico's L2Ork Ramblings on the vision of [L2ORK] |